Alipore Bomb Trial 1908–1910
A Compilation of Unpublished Documents
— Compiled, Edited and with an Introduction by Amiya K Samanta
ISBN: 978-93-81043-23-3
Available since 19-Apr-2017
Binding: Hard Cover

Pages: 830
Price: Rs 2195



A project of the Indian Council of Historical Research, this is the first of two volumes bringing to light all the unpublished documents related to the Alipore Bomb Trial. The long introduction looks at the motivating spirit of patriotism, nationalism, self-sacrifice, and strong aspiration for freedom from colonial rule that set the context for the events leading up to the Alipore Bomb Trial. Highlighting Sri Aurobindo's leadership role in the freedom struggle, the editor outlines the emergence of secret societies in Bengal, the political conflict of moderate versus extremist, the ideological clash between passive resistance and violence, the persecution of the press, and the developing events at the Maniktala Garden leading to the search, seizure, and arrest of the accused. By discussing how witness statements, confessions, and expert evidence play a role in a criminal trial, how law and procedure operate in the courtroom, and how truth is determined in a judicial trial, he prepares the reader to evaluate the unpublished documents relating to the Alipore Bomb Trial that follow in the next four chapters.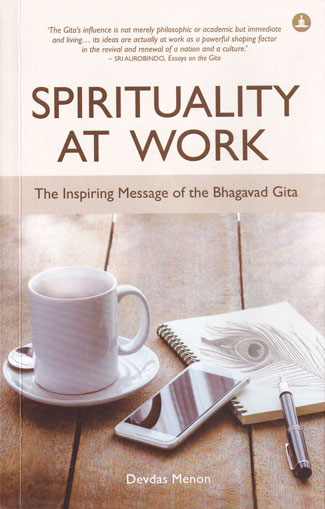 Spirituality at Work
— Devdas Menon
ISBN: 978-93-82742-52-4
Available since 19-Apr-2017
Binding: Soft Cover

Pages: 303
Price: Rs 499



Based on the teaching of the Bhagavad Gita and drawing inspiration from Sri Aurobindo's Essays on the Gita, this book has emerged from the lecture notes prepared by the author for a course on Integral Karmayoga offered at IIT Madras in 2014. Aimed at rediscovering the inspiring message of the Gita, the book focuses on finding fulfillment in life through the application of conscious will—through karmayoga, but also incorporating the ways of knowledge and devotion. Its purpose is to help the next generation face the challenges of a competitive work environment by applying the wisdom of the Gita to their daily lives.